It's not easy to find the perfect book to read. Psychological thrillers are among the most popular genres, but new authors can find it challenging to know where to start. Sometimes it takes a while before you figure out what your favorite author is, so in this blog post, we will talk about eight books that I recommend reading if you're starting out!
1. Gone Girl by Gillian Flynn
It is Nick and Amy Dunne's fifth wedding anniversary. Presents are being wrapped, and reservations are being made when Nick's beautiful wife disappears. At first glance, Nick appears to be the concerned husband, but something seems off about him. Is he hiding something? Amy's diary entries also reveal trouble in a marriage that from the outside seemed so perfect.
Under mounting pressure from the police and the media, the town golden boy parades an endless series of lies, deceits, and inappropriate behavior. Nick is oddly evasive, and he's definitely bitter—but is he really a killer?
I recommend it because
The intelligent, riveting plot in Gone Girl has it all. The two main characters, husband and wife, are playing mind games, bent to outdo each other right through to the surprising end.
Here is a quote by author Gillian Flynn: "The whole point is that these are two people pretending to be other people, better people, versions of the dream guy and dream girl, but each one couldn't keep it up, so they destroy each other."
2. The Talented Mr. Ripley by Patricia Highsmith
The Talented Mr. Ripley is the first novel in Highsmith's series about Tom Ripley, a master of deception. In this novel, Tom Ripley is a young man and a recent arrival in Manhattan where he attempts to claw his way into the upper classes by whatever means necessary. Then, by chance of mistaken identity, he ends at a banquet where a wealthy industrialist hires him to bring his playboy son, Dickie, back from gallivanting in Italy.
The story is about what's going on in Tom's head as he negotiates his way through affluent Italy, first insinuating himself into Dickie's life and then taking it over. Tom's fascination with Dickie's lifestyle turns obsessive as he finds himself enraged by Dickie's affections for Marge, a charming American dilettante. Soon a series of strange encounters leads to murder and identity theft as Tom begins a deadly game attempting to hold on to his newfound high-class status.
I recommend it because
In Tom Ripley, you have a horrific villain in action! He has many superpowers/gifts: He uses his power to get what he wants at any cost. He can convince anyone that his lies are truths, able to charm anyone, able to disguise himself easily.
3. The Firm by John Grisham
The Firm is a fascinating story about a young law school grad, Mitch McDeere, deciding to join a small Memphis firm that offers him outstanding "benefits." The firm leases him a BMW, pays off his school loans, arranges a mortgage, and hires a decorator. Mitch and his girlfriend Abby think all their dreams have come true.
Soon after two of his new colleagues die in a boating accident, Mitch begins to realize the façade of the firm is not as benevolent as he thought. When the FBI tells him the mob owns his company and that his car, house, office, and phones are already wired, Mitch realizes that his life may be at risk. The FBI needs his help to prosecute individuals within the firm and assure him of their protection for him and his girlfriend. Mitch feels trapped, struggles with his choices, and then agrees to help them. Using his legal training and a degree of cunning, Mitch puts together a scheme that puts the firm under scrutiny while reducing the risk levels to him and his family.
I recommend it because
Here is a fascinating read that holds you right through to the last page. Mitch McDeere is your perfect hero. He has deep knowledge of the law and is eager to take on the world with open eyes. He's a good person with a solid moral code. He's real: he has real fears, conflicts with others, problems in his relationships. He's the one you'll be rooting for when he fights for his life and his love.
4. Jaws by Peter Benchley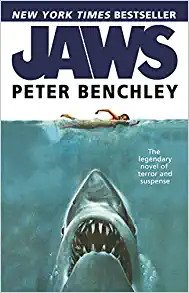 Jaws tell the story of a great white shark that preys upon a small resort town and the voyage of three men trying to kill it. The attacks and the political havoc wrought on the city are captivating. However, I thought the movie (by Steven Spielberg) was more enjoyable. It was so powerful that legions of people have refused to go into the water after seeing that movie.
I recommend it because
Spielberg was employing a strategy used by Alfred Hitchcock throughout his career. "A bomb is under the table, and it explodes: That's a surprise," said Hitchcock. "The bomb is under the table, but it does not explode: That's suspense." Spielberg leaves the shark under the table for most of the movie. Many of its manifestations in the latter part of the film are second-hand: you don't see the shark, but you see the results of his actions. The payoff is one of the most compelling thrillers ever made.
5. Misery by Stephen King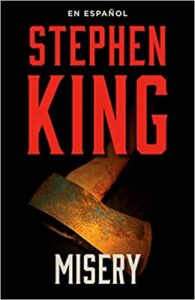 Bestselling novelist Paul Sheldon has finished his latest novel "Misery" and is driving home to Colorado for some well-earned rest. After a near-fatal car accident in rural Colorado leaves his body broken, Paul finds himself at the mercy of the rescuer—his number one fan, Annie Wilkes, who has volunteered to nurse him back to health. But in Paul's vulnerable state, it soon becomes clear that Annie is not just his caregiver; she's also psychotic.
Annie demands that he writes a new novel—his best yet, and one that is all for her. Paul has all the time in the world to do so as a hostage in her isolated house, and Annie has some very persuasive methods to get what she wants.
I recommend it because
This book is genuinely scary. The psychological suspense is sure to keep you on the edge of your seat. It pulls you in and holds you through twists and turns and mounting tension. Unadulteratedly terrifying.
6. The Silence of the Lambs by Thomas Harris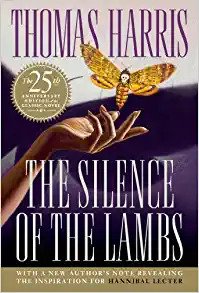 A young FBI trainee, Clarice Starling, tries to catch up with a dangerous serial killer. To get into the mind of a psychopath, Clarice seeks help from an unconventional source: the cannibalistic serial killer Hannibal Lecter.
She visits the imprisoned Lecter and forms a relationship with him. She answers some of his questions in exchange for bits of information about the other serial killer, dubbed Buffalo Bill. To catch Buffalo Bill, Starling must dive into the dark minds of two of the evilest criminals the world has ever seen.
I recommend it because
The story takes you inside the world of professional criminal investigation at its best. All the elements of a well-executed thriller are working here – driving suspense, compelling characters, inside information, publicity-hungry bureaucrats, and the clock ticking relentlessly down toward the death of another young woman.
7. The Girl With the Dragon Tattoo by Stieg Larsson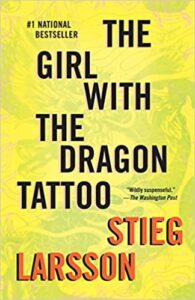 This mystery thriller is about investigative journalist Mikael Blomkvist and his assistant, the enigmatic and deeply troubled Lisbeth Salander. They are hired to investigate the disappearance of a member of one of Sweden's wealthiest families and the various evils and corruption they discover along the way. It's an intelligent, meticulously plotted thriller, a serial-killer saga, with an informed glimpse into the worlds of journalism and business, high-tech sleuthing, and psychosexual drama. While it starts slowly, it speeds up toward the end, becoming impossible to put down.
I recommend it because
Hacker Lisbeth Salander is an ingenious creation. A computer hacking, an antisocial heroine with pierced eyebrows, and a survival instinct that could scare anyone who gets in her way. You will not forget that she is charismatic and fascinating, splendidly original, mysterious, and a deeply troubled central character.
8. Our Man in Havana by Graham Greene
Graham Green's spy novel Our Man in Havana has been adapted into a movie, an opera, and a stage production. A satirical story follows an MI6 man, Wormold, a former vacuum-cleaner salesperson in Cuba recruited by British intelligence in pre-Castro days. All he has to do is carry out a little espionage and file a few reports. But he dislikes his job and files bogus reports out of spite. So when the stories he makes up begin coming true, he must scramble to make things right or risk losing his income and reputation.
It is a light, easy read, with a delicate balance of intelligence, humor, and irony in a story of unforeseen and unintended consequences. Greene's characters talk like real people and make decisions real people make (even the bad ones).
I recommend it because
It's different: it's a comedy, mystery, and thriller—a satire on the murky activity of spying. Well written with a good plot, this book is an amusing take on the world of espionage until Havana becomes a scary place.
In conclusion
I hope you'll enjoy these books/movies, even for the second or third time. They are classics for a reason, and every time you read them, you'll learn something new from these brilliant creators of thriller novels.
Enjoy,
Ulla