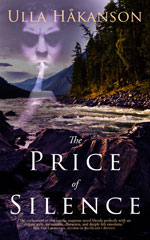 First a little note about my new cover. I decided to change the cover of The Price of Silence. Many people have told me that the book deserved a better cover. They felt the one I had wasn't spooky enough; that it needed to be more sinister-looking to reflect on what was going on in the book. So here it is. What do you think?
My second draft is back from the editor. There are fewer correctional comments than in the first draft. This time he pokes deeper, challenges me for more detailed psychological reasons as to why specific characters do this or that.
"What do you mean by that?  Need more explanation here, too much left out.  So why have they decided to look for it?  Unclear who this is. Why does he have this info? 
Once in a while he throws me a bone: "I LOVE that!  That's funny.  Love the instant characterization without the character even being there."
I frame those.
The good thing about editing is that when I've done the revisions, it reads so much better than it did before, which is encouraging, but this is a looong process. There will be more drafts to write…
Thanks everyone for signing up for this monthly taste of my writing world. And an extra big Thank You to everyone who responds. I love to hear from you! It's so nice to know that I'm not just talking to myself.