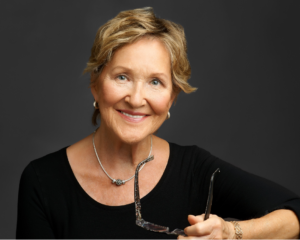 About the author
ULLA HÅKANSON
Ulla Hakanson began writing her first novel, The Price of Silence, during a week-long kayaking trip through the wilds of British Columbia.
The tale began as an adventure, then veered into a dark place, seemingly of its own accord. Which only made sense, given Ulla's long-time interest in true-crime stories and dark-themed fiction by authors like Stieg Larsson. The unexplored nighttime wilderness, the sounds of wildlife and whispered conversations by firelight all sparked Ulla's imagination. In no time at all, she went from retired graphic artist to aspiring author—and someone who couldn't imagine not writing.
"I didn't know anything about writing novels," Ulla says now. "I'd heard you should write about something you knew, so I had to talk to many professional experts in order to "know" some of the things I wanted to write about. I trusted my storytelling intuition—and then filled in the knowledge gaps."
Ulla consulted a police superintendent, a forensic lab staff sergeant, a supreme court judge, a defense attorney and medical and psychological professionals. The Price of Silence took five years to complete.
In her previous life as a graphic designer, Ulla spent four years at Sweden's Royal Institute of Technology in Stockholm, creating illustrations for Professor Hannes Alfven, who won the Nobel Prize for Plasma Physics 1972. Ulla continued her drafting career in Toronto, Canada. At age 48, she entered Georg Brown College in Toronto to get a commercial arts degree. Navigating through herds of black-clad twenty-something artists, she earned her certificate and ran her own design company until retiring to the west coast of British Columbia.
Ulla's writing room looks out on forest and the creeping west coast fog. On most days, birdsong, wind and rain—and perhaps the occasional deer—are her sole companions.
Ulla is now hard at work finishing up her second book, Deep Waters—a self-standing sequel to The Price of Silence.
TESTIMONIALS
Read Reviews by My Readers
"I read The Price of Silence a second time, and enjoyed it as much as the first!"
"The Price of Silence is fast-paced, the characters are well developed, the language is vivid, the BC settings is described accurately in splendiferous terms and the plot is well-constructed. Ulla Hakanson does a fine job of this fast-developing story, a surprise in page after page. This is a thriller par excellence; highly recommended."
"Ulla Hakanson's The Price of Silence is a tightly woven suspense novel with equal parts danger and romance that keeps readers hungrily turning the page."
"It's a classic trope- psycho ex-boyfriend turns up to ruin woman's life, but Ulla Hakanson writes well and puts new angles on the tale. Her main protagonist, Amy, is likeable and realistically written, and even her nasty bastard of an ex seems human. The lush descriptions of the vast Canadian wilderness also appeal. More please!"
Newsletter to get in touch
Join my mailing list!